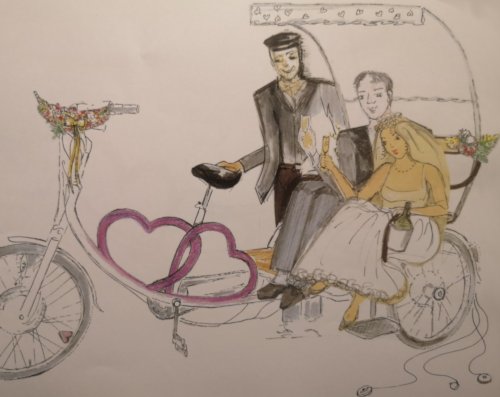 Because Oldenburg calls itself and is a bicycle city. Therefore, a wedding bike is needed. Cycling is in fact typical for this beautiful city.
A white tricycle with electric support and chauffeur, a historic bench for the bridal couple and of course a canopy.
Two umbrellas should and will not be missing. And of course with champagne cooler, glasses, flower vases, music and video camera on board.
A real and stylish wedding bike with all the trimmings for all Oldenburg residents.
The idea: Oldenburgers give all Oldenburgers the wedding bike with a donation. With little, many can do a lot for everyone.
Approx. Construction will cost €10,000. If 5000 Oldenburg residents donate €2 or more, I can build the bike.
If more donations arrive and there is money in the special account set up by Raiffeisenbank Oldenburg, the rental of the Oldenburg wedding bike and the chauffeur will be free of charge. An Oldenburg bicycle instead of a car will then be in front of the registry office. This is befitting of this city.
On April 3rd this year, I would like to hand over the wedding bike to the people of Oldenburg on the Schlossplatz for the "Hallo Fahrrad" event.
Any donation is welcome.
Here you can donate via PayPal
Account details:
Raiffeisenbank Oldenburg eG | IBAN: DE86 2806 0228 0011 8966 01 | BIC: GENODEF1OL2 | Oldenburg Wedding Bike
Binding greetings
See you on April 3rd at "Hallo Fahrrad" on the Rathausmarkt?
Your Michael Olsen
NWZ article: https://www.nwzonline.de/plus-oldenburg-stadt/oldenburg-projekt-im-hochzeitsrad-zur-trauung-kutschieren_a_51,5,3956317716.html< /p>
Unfortunately, two small errors crept into the NWZ article: The tricycle is a tricycle that was formerly used as a cargo bike and not around a postal delivery bike. Furthermore, the donations are acquired via private crowdfunding and not via the crowdfunding platform of the Volks- und Raiffeisenbanken with the "Stiftung Kulturtetage e. V." as a partner.
If you have the PayPal app installed on your mobile device, you can use it to donate using the following QR code: